Your Next Five Moves Summary – Holy Book for Entrepreneurs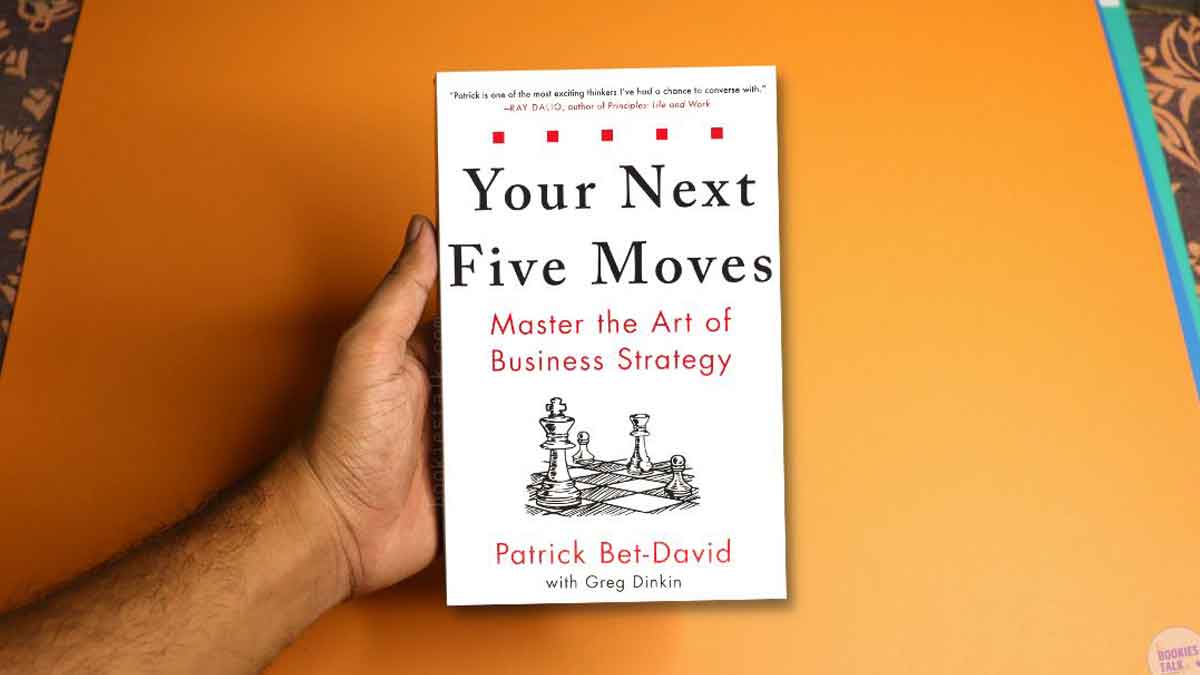 Patrick Bet David author of Your Next Five Moves talks about how you can master the art of business, with 5 key lessons, he will give you his wisdom which can further help you toward your business journey. After reading the book, you will able to decide how, when, and where to start a business and you will able to solve any business problem by yourself.
Quotes
"Awareness shows you that you are at the center of all your problems (and solutions)."
"When you study the most important person (you), you will begin to learn how to conquer the most important person who is holding you back (you)."
"Studying others gives us knowledge, but studying yourself ultimately leads to an incredible amount of freedom."
Let me first say thank you for reading this. This will be a weekly newsletter, hope you enjoy it. Now I will see you every Sunday at 9:00 AM (IST).
Your Next Five Moves Summary
Your Next Five Moves is divided into the five parts
PART 1: Master Knowing Yourself
PART 2: Master the Ability to Reason
PART 3: Master Building the Right Team
PART 4: Master Strategy to Scale
PART 5: Master Power Plays
This is not a self-help book, it's a business book yet it talks about how your behavior and attitude can affect business. It also gives you the solution to each problem that you might face when you start a new business.
So let's deep dive into the book and find out the key lessons which will help a lot, if you ever wanted to start a new business.
If you know what you want to do and have the courage to act on it then it's the beginning of something big.
You don't need a team of 100 people, sometimes, 5 people can archive what 100 can't.
Think five-step ahead, ex; if you have an idea then see that idea in the real world and see what kind of problem you will face.
Business is run by your mind, never take any decision because of emotion.
In the start, you don't need to spend millions, spend where is needed.
Master the Most Important Person (you)
When you want to buy a new smartphone, you always search on MobileDrop but before starting a new business or doing something new, you don't always question yourself.
Identify your skills and use them accordingly when you start your business.
Related: Must-Read Books in Life
For example, without learning any coding languages, you won't able to make applications. Just like that, without knowing yourself and your ability, you won't able to give your 100% toward business.
Start Asking "Why?"
Once you've identified the real issues, start asking "Why?" Keep doing so until you reach a point where you can't ask "Why?" anymore—or when you're forced to repeat an explanation you've already discovered. That is your deepest why and the real cause of your problem.
For example:
We lost our top customer. Why?
A competing product costs less. Why?
Because it has fewer features. Why?
Because most customers don't need all of the features in our product.
Aha
Now you've identified one of the main reasons why you didn't hit your numbers: because your product doesn't meet your customer's need. Solving the problem, then, becomes relatively easy: you need to offer a less expensive version of the product that has fewer features.
Five Questions to Ask to Identify the Real Issue
Do I know what the real issue is, or am I looking at a symptom?
Does the team have the data regarding the real issue?
Is the issue real, or is it an assumption or someone else's opinion?
Is there a real issue, or is it simply a hurt ego?
Am I thinking emotionally or logically
Build Right Team
It's very simple to build a team right?
You know your business and you also know your skills.
So what is left?
A team of people who can make everything seamless and to do that, you will have to hire those people who have the right skills and the right mindset to work at your company.
For example,
If I want to hire one person to write on BookiesTalk then I will search for a person who loves to read books and can explain complex tasks in a simple way.
I won't hire that person who has never read a single book in his/her life or who has never written a single article.
Scale When is Necessary
Never afraid to start new things.
You can look at Reliance, they're an Oil company but they also started Telecom and Retail business because they show growth in that sector.
Similarly, if you're running a shop of clothing then it's better to list your store on Amazon, and Flipkart and even launch your e-commerce website.
Now, you can't just say that, what if no one bought any product from my website? The right mindset is that if you're running a profitable local shop then you can bun a little bit of money by starting a new e-commerce website.
If I talk about myself,
I started MobileDrop back in 2018, I worked on the website for three years, and once I realize that, I'm earning a good amount of money and I don't have to work 8 hours a day on MobileDrop, I started three new websites in 2021.
The lesson is, Scale When is Necessary…
Your Next Five Moves Review
Patrick Bet David has explained almost everything about business and has also given the right solution for each problem you might face when you start a new business. The Your Next Five Moves is a good book that will teach you a lot about business and how businessmen think about their competition and much more.
Go read it, if you're interested in starting a new business or want to do something other than JOB.
Love What You Read, You Might Like These too…