The Power of Focus Summary (Plus PDF)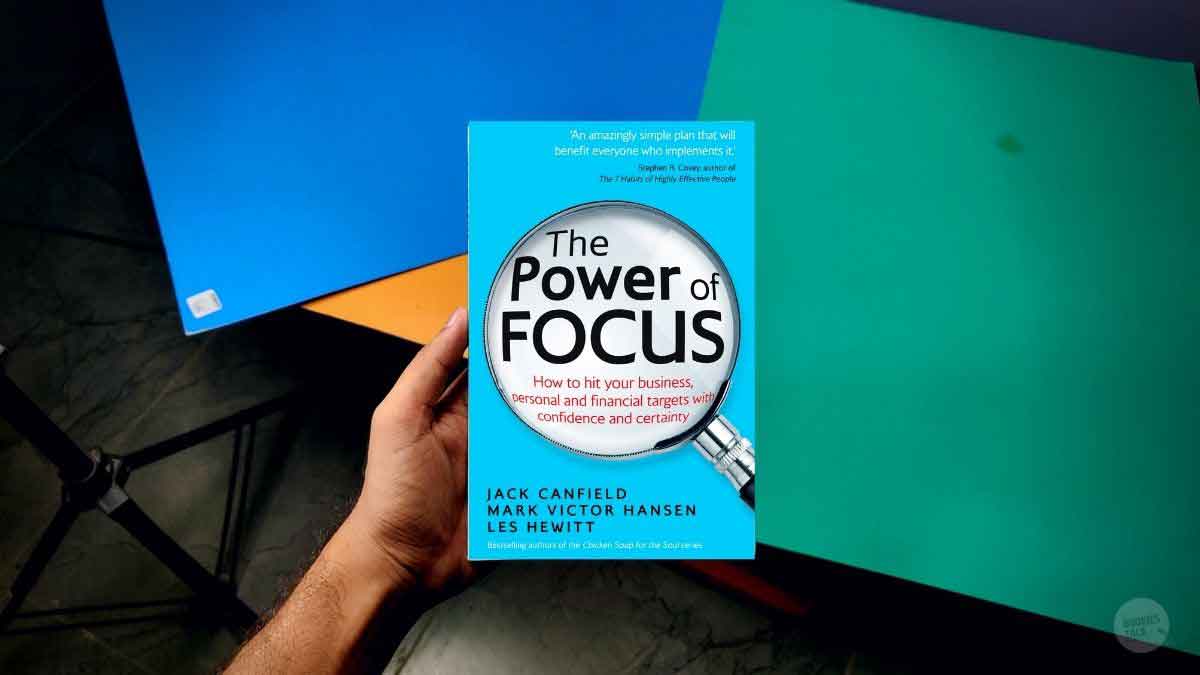 Power of Focus is all about how you can achieve your goals without any distractions, this is a generic self-help book that focuses on productivity, time management, procrastination, and self-improvement.   
The book is massive, it has 368 pages and this is a self-help book. This means it's not technically a good read for beginners.
Let me first say thank you for reading this. This will be a weekly newsletter, hope you enjoy it. Now I will see you every Sunday at 9:00 AM (IST).
The Power of Focus Summary
Jack Canfield simply says, your habits will shape your future and you have to accept the reality and move on with your life otherwise, you will be stuck in the loophole.
The author talks about lots of things which is kind of good because you're getting all the self-improvement advice in a single book but the problem is, because the book has everything, the author didn't go deeper into the topics.
Nonetheless, it could be a good read, if you don't want to go into advanced self-talk.
That being said, let's explore a few things from the book.
I'm keeping my promise, this is the mini-ebook of The Power of Focus by Jack Canfield. So download right now and read wherever you want for free. Happy Reading.
Build Habits for Future
You will be like, not again but I have talked about habits because the core essence of the book is on HABIT.
As James Clear says, improve by 1% every day and you will be way ahead of everyone around you. 1% doesn't seem too big but after a year, you will be 37% better than the day you started.
Now, Jack didn't mention the 1% rule but he did say that if you want to be a better version of yourself then there is nothing more powerful than building good habits.
For example, if you want to read a book but you always ignore reading then just read 10 pages and stop when you reach 10 pages.
Repeat this for a month and you will realize that you have finished 300 pages.
Now, you don't have to read 10 pages, you can even read 1 page but the core idea behind is to do the same things every day.
The same goes for everything else, whether you want to make a habit of exercise, meditation, running, eating healthy food, quitting bad habits, or anything else.
The moral of the story is, to follow the process and don't think much about the end result.
Focus Mode On
When I was in my schooling days, almost every single teacher said, 
If you're good at math and you're not good at science then spend more time on science and improve because if you don't do this then your percentage will go down.
This is good advice if you're running after percentage.
Now, what the author says is, 
If you know Python then it's better you focus on that one language and get better at it rather than learning a new language.
The reason is very simple, you can master Python and you can build anything you want whereas if you learn a new language then you want to be able to go deeper into Python.
Because of this, you will be stuck in between.
Take an example of me, I love to write and I'm running websites seen 2016. 
So just imagine, if I was doing the job or running a business then my writing skill could have been like any new blogger.
So do what you love, what you're good at and master that skill like no one has done it before.
Go as deep as you want but master that one skill and have a focused mindset or better have a Productive Mindset (I had to do it)
Procrastination Cure
Everyone Procrastinates but that's not the problem, the problem is, some people tend to ignore Procrastination and this is the biggest problem.
If you're facing any sort of problem in life and you know how to solve the problem but you also know that it will take lots of time and energy. So you're ignoring that problem and focusing on other things.
Or, you're not getting the result you wanted, so you will be like, let's just move on from this.
So next time, when you Procrastinate, just ask yourself a few questions,
Can I solve this problem? 
Do I need any sort of help from someone else?
If I don't solve this problem, will it affect my personal or work life?
Why am I afraid of working on this problem?
Why am I ignoring this problem for months?
When you answer these questions, you will realize the actual problems you're facing.
The only thing you have to do is, be honest to yourself, don't lie, and just answer these questions and work on that problem because you can.
Also, don't give me an excuse for the problem you're facing because you already know that, excuses are just a way of ignoring the problem. 
Set A Goals
Always set goals that you can achieve otherwise, you will quit whatever you're doing.
For example, if I want to become an Actor then first I need to learn how to act and more on that, I need to be honest with myself about whether I can act or not.
If I have never acted then it will be hard for me but if I have confidence that I can be an Actor in the next 365 days then why not, I can set a goal.
So again, know what you're good at and master that skill, don't just set a random goal.
Set realistic goals that you can go after.
For example, I have read tons of books in the last 10 years, so it won't be hard for me to write a 365 book summary next year but if I have never read a single book in my life and If I promise that I will read 365 books next year and I will also write about it then this is unrealistic goal.
The Power of Focus Lessons
There is nothing more powerful than building habits because this will change the way you think and your future.
You can't be good at the things you don't like, so work on the things you love the most and master that one skill.
Procrastination is a big problem, so whenever you feel like not working on goals, remind yourself why you started this in the first place.
Set realistic goals that you can work on.
The excuse word needs to be banned from your mind.
The Power of Focus Quotes
"I think when you have big dreams you attract other big dreamers."
"if you surround yourself with people who are strong and positive, you're more likely to see a world full of opportunity and adventure."
"Life doesn't just happen to you. It's all about choices and how you respond to every situation."
"Remember, nothing will change until you do."
"Remember this—your outward behavior is the truth, whereas your inner perception of your behavior is often an illusion."
"If you read one book every month about your industry, in ten years you'll have read 120 books. That will put you in the top one percent of your field."
"Every action you take has consequences. Bad habits (negative behavior) produce negative consequences. Successful habits (positive behavior) produce benefits and rewards."
The Power of Focus Review
I mean, there is nothing extraordinary about this book, this could have been a stellar book if it had 100 pages but 368 pages is too much for self-help. So yes, if you have read a few self-help books then you can skip the Power of Focus by Jack Canfield.
It's a generic self-help book and there is nothing new that other authors haven't written in their books.
Also, as this is a big book, you might feel bored as this talks about all the same concepts.
Buy The Power of Focus:
Love What You Read, You Might Like These too…