Five Regrets of the Dying Summary (Plus PDF) – Bronnie Ware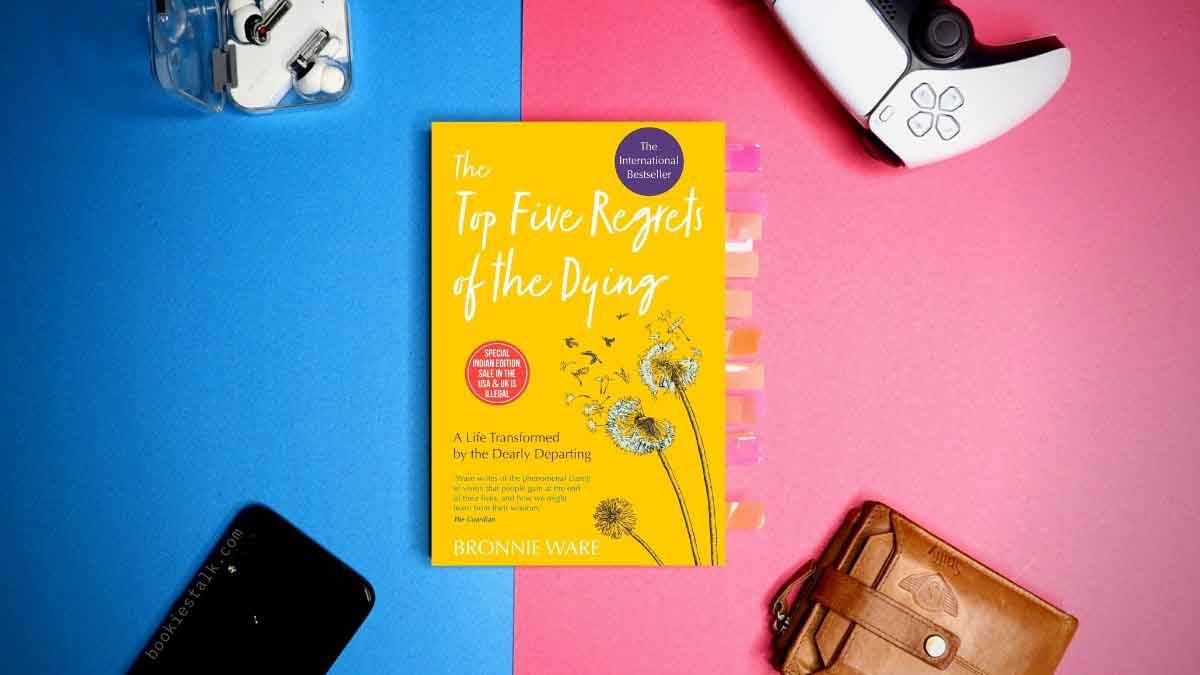 No one should have any sort of regrets when they're on a deathbed because that's the worst thing, this is what Bronnie Ware wrote in her "Top Five Regrets of the Dying" book. She tells you very gently, live your life as per your rules because you only have one life.
Let me first say thank you for reading this. This will be a weekly newsletter, hope you enjoy it. Now I will see you every Sunday at 9:00 AM (IST).
Top Five Regrets of the Dying Summary
When Bronnie Ware was working as a caretaker of the dying, she learned many things about people and most of those people had lots of regrets about life.
The funny thing was, everyone came from different cities and yet all the people had the same regrets about life.
The most common regret of a dying man was "I wish I had spent time with my family".
So let me share with you the top five regrets of a dying person that will help you to manage your life better and one day you will die peacefully (wink, wink).
But before that, as I have promised, here is the free PDF of Top Five Regrets of the Dying by Bronnie Ware. So download now because it's free. Happy Reading…
I Wish I had spent time with my family
Do I feel this right now, my answer is no because I have managed my time as per my rules, and I don't act in movement.
What about you, do you feel that "you need to spend more time with your family, you feel, you're working too much and still, you're not getting what you want"
If the answer is YES then it's time to manage your time because if you don't then you will say the same "I wish I had spent time with my family".
First, let me tell you how I do it, 
I go to sleep at 9:00 PM and wake up at 5:00 AM every day. 
The first thing I do in the morning is, yes, go to the bathroom and then have coffee and after that, I read a book. 
After reading a book for 30 minutes, I do 20 minutes of exercise. After that, the usual thing to do is, take a bath.
Related: 15 Books to Read Before You Die
After doing all this, I spend about 2 hours with my family, whether I'm spending time with my daughter or just or just walking around the home.
I start my work at around 9:00 AM and I stop working at around 6:00 PM every day.
No internet after 6:00 PM.
This is my normal day and I don't work on Sunday, I also don't use the internet too (on Sundays).
The question you might want to ask is, this feels perfect, do you ever skip one or two things?
The answer is, YES, I have but not anymore because I've been following this routine for about 2 years now.
Still, there are days when I go to sleep at 11:00 AM but the things, I woke-up at 5:00 AM no matter what happens.
What I wanted to say is, you have a choice whether to work for hours or manage time and work in those hours and use those free hours to spend time with your loved ones because that matter the most.
When you manage your time, you get to work on the most important tasks and rest can wait.
I Wish I had lived My life as per My rules
Not gonna lie, I'm guilty of this too. I used to do things that my mother said till the time came when I had to choose my career. 
Most of the family members said you can either do CA, BBA, MCA, CS, or better, prepare for government exams.
This was the time when I said I wanted to start a website and the answer I got is, you can do whatever you want but you also need to do college.
So I said, okay. I did B.com.
This wasn't that hard, for three years I learned about blogging, writing, and most importantly, English because I didn't know how to write or speak in ENGLISH.
I am really proud of myself because I said "I wanted to do this" and because of this, I won't regret
This is the only example, there are many which you can apply. 
Wear the cloth that you want to wear, don't give F about what people say about you, do the things that you feel like doing, and spend time with the people you want to spend.
I Wish I had Expressed My Feeling
I'm from India and not many people say "I love You to their mother or father" This is very bad.
Now, it will be hard to say "I love you to your father than to your mother" So start from there, go to your mother and say "I Love You, Mama"
This doesn't look that big but for your mother, it's bigger than anything else.
So express your feeling to the people you love the most because they won't be around forever.
I Wish I had spent time with My Friends
These are those friends you cared about when we were in your school days, and you wanted to stay in touch with but somehow that didn't happen.
So do me fever, take time and call them.
Spend time with them because there was a time when you had thought that I would always be with them because they're my best Friends.
As for me, I only have 3 best friends, all of them are from School. I also have other friends but they're just there.
So you don't have to have 100 friends, have a few but those few need to be like brothers.
I Wish I Was Happy
You know what, whether you want to be happy or not, it's on you. You can either choose to be happy or sad or live your life in the past, it's a choice you have to make.
So choose to be happy because it doesn't cost anything.
Everyone will have some kind of problems in their life but that means you need to be sad or stressed because every problem has a solution.
So be happy my Friend.
Top Five Regrets of the Dying Lesson
One of the powerful takeaways for me from the Top Five Regrets of the Dying by Bronnie Ware is "spend as much time as you can with your family because they won't be with you forever, your work can wait for a while but your parents won't"
Top Five Regrets of the Dying Quotes
"Don't worry about the little stuff. None of it matters. Only love matters. If you remember this, that love is always present; it will be a good life"
"The only true thing that brings out the best in anyone is love."
"Don't work too hard. Try to maintain balance. Don't make work your whole life."
"It's not just about staying in touch with your friends, my dear girl. It is about giving yourself the gift of their company too."
"Smile and Know that this time will pass and good will follow."
"When there is limited time left, there is little to lose by being totally honest."
"I wish I hadn't worked so hard"
Top Five Regrets of the Dying Review
The Question you want to ask will be, should I read the Top Five Regrets of the Dying by Bronnie Ware because it feels like you told me everything my answer is "No, I haven't told everything, so go read it because you will get to hear a lot from Bronnie Ware"
It is must read because it tells you, how you can die without any sort of regrets. 
Love What You Read, You Might Like These too…