Just Keep Buying Summary and Review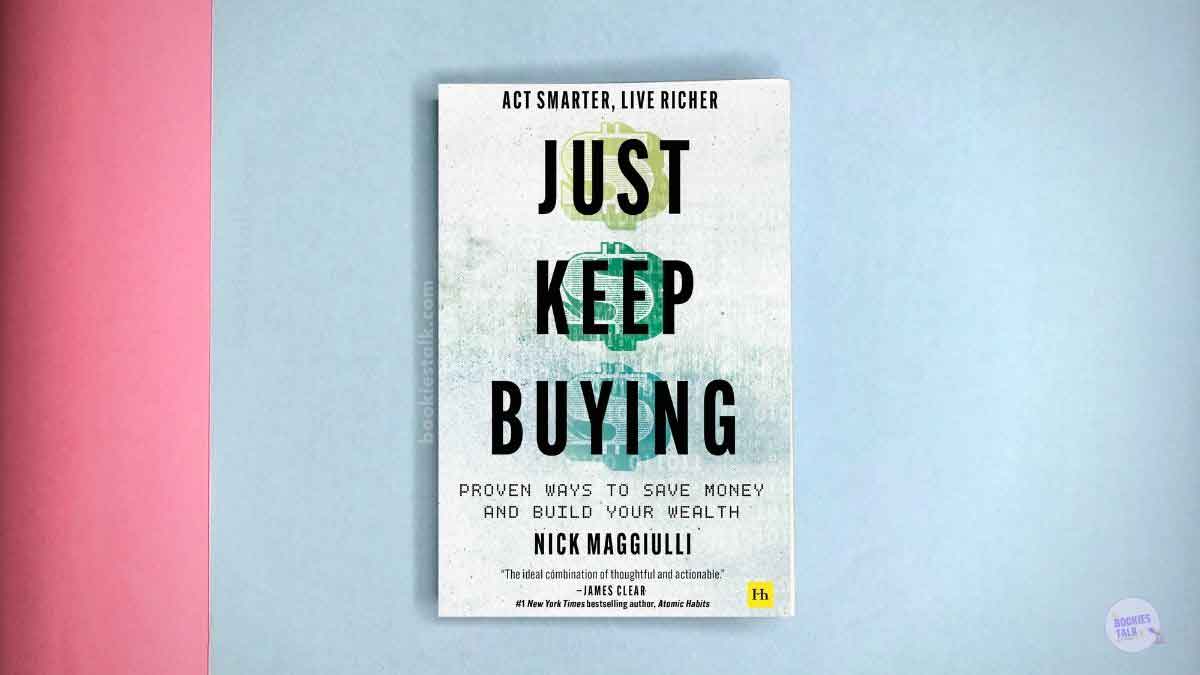 Nick Maggiulli the author of Just Keep Buying talks about Saving and Investing, he will give you a clear idea of why everyone should invest their money and why one should not keep everything in one bucket, by the end of this book, the author will convince you for investment and he will also give a reason behind it.
Let me first say thank you for reading this. This will be a weekly newsletter, hope you enjoy it. Now I will see you every Sunday at 9:00 AM (IST).
Just Keep Buying Summary
The book talks about the same proven ways to create wealth, I didn't find anything new because I have already read lots of books on finance like Rich Dad and Poor Dad, The Psychology of Money, and many more, so for me, this book didn't give me anything new which I was hoping for.
Now, if you're that person who hasn't read many finance books then I would highly recommend you to read Rich Dad and Poor Dad and skip Just Keep Buying by Nick Maggiulli.
Still, if you feel you have time and wanted to read something then give it try, the book will refresh your mind.
By the way, the book is divided into the two-part, Saving and Investing…
Saving
Investing
How Much Should You Save?
Why Should You Invest?
How to Save More
What Should You Invest In?
How to Spend Money Guilt-Free
Why You Shouldn't Buy Individual Stocks
How Much Lifestyle Creep is Okay?
How Soon Should You Invest?
Should You Ever Go into Debt?
Why You Shouldn't Wait to Buy the Dip
Should You Rent or Should You Buy?
Why Investing Depends on Luck
How to Save for a Down Payment
(and Other Big Purchases)
Why You Shouldn't Fear Volatility
When Can You Retire?
How to Buy During a Crisis
When Should You Sell?
Where Should You Invest?
Why You Will Never Feel Rich
The Most Important Asset
Just Keep Buying Table of Content
Now, that you know, this is a How-To book, so let's go a bit deeper.
Invest As Much As You Can
I'm from India and No one from my family or friends taught me how to invest or where to invest.
Whatever I have learned about money is from books I have read. Sometimes, it gets hard when someone says to invest in the stock market and forget about it for the next 10 years.
About the stock market, my fear was that what if, that or this company goes down, what will happen to my money?
Now, if you're just learning about investment then you might have this kind of question but let me tell you one thing,
Don't ever invest in something because someone is telling you, no matter what it is, first, do your research and then, invest some amount of money.
Let me give you want an example,
Let's say, you're earning Rs 20000 every month, (it could be more too…)
Out of Rs 20000, your needs might be Rs 10000,
Now, You have Rs 10000 left, also, if you wanted to buy something for a long time then make that purchase but don't spend all the money.
I'm assuming that you have spent Rs 2000 on something, and now you will have Rs 8000 left.
Out of that Rs 8000, invest Rs 4000 where you feel comfortable, it could be Stock Market, Crypto, Mutual Funds, or anywhere else but if you ask me, I would recommend you invest in the stock market. (not financial advice)
Now that you have invested Rs 4000, you will have Rs 4000 left, put that money in a bank account and use it whenever you have an emergency and when that emergency fund gets bigger, take out that money and invest it somewhere.
By the way, if you feel, you can increase your investment from Rs 4000 to Rs 6000 or more, depending on your needs and wants.
This is a simple formula that you can use but if you want, you can play around with numbers till you feel comfortable.
Cutting Expenses
You don't have to cut your expenses for investment or to do anything else, we're living in a modern world, and there are tons of ways to earn money whether it's from websites, YouTube, selling something online, or anything else.
We have tons of options to choose from.
So figure out what you want to do and start that something on the side, do your job too, and take out 2 or 3 hours for a side gig.
You might not earn today or tomorrow but the day after that, you will thank yourself because you started a website or did something in the background rather than watching movies for 2 hours.
When You Should Invest in Stock Market
If you're reading this in 2022 and if you have invested in the stock market then congratulations, you have or will make money. Whether it's the stock market or the crypto market, we're in a bear market, everything is down by 50% or 70%.
Still, if you haven't started investing then what are you waiting for? (again, not financial advice).
Everyone knows that buy low and sell high and this might not be low but it is a good time to invest because no one knows what will happen tomorrow, the stock market starts to recover or it might go down further.
So do the SIP, invest a small amount whenever the market goes down, and wait.
You will think yourself and me when 2040 comes, invest but wisely.
Should You Ever Take Debt
It depends on what you're debt is, if you buy iPhone worth 1 lakh and you're taking a loan or buying on EMI then it's bad debt but if you're taking the loan for your new business then good debt.
Yes, it's that simple, you just have to control your mind when you're buying something with someone else's money, yes, I'm talking about loans.
Always, take debt for assets, not for liabilities. Now, sometimes, you may have to take a loan for liabilities which is okay but always see, what are those liabilities whether it's buying iPhone or something else.
Just Keep Buying Review
Whatever I have mentioned here, you will read the same in the book with some examples, I have also given a simple explanation but I haven't added more than one example because this is a book summary and not the book itself.
So should you read the Just Keep Buying Book? the answer is No.
Nick Maggiulli didn't share anything new in his book, it's the same formula of investing and saving that has been around for ages and lots of authors have mentioned the same in their books.
Love what you read, you might like these too…