Never Finished by David Goggins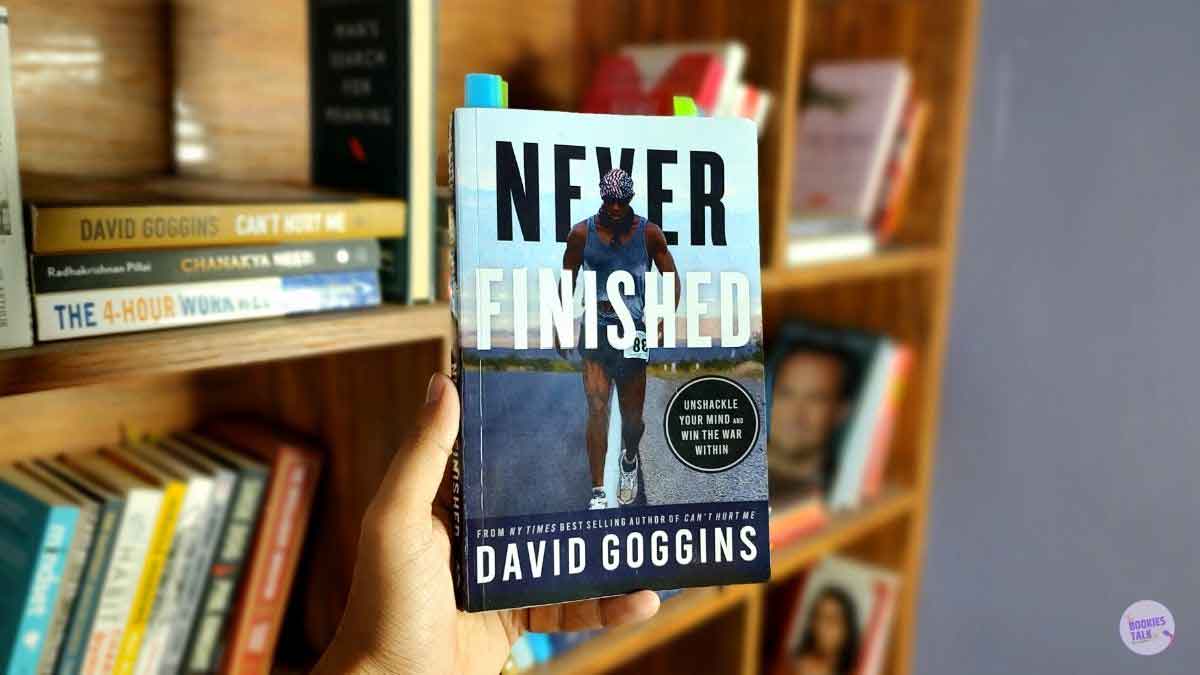 Never Finished by David Goggins is all about fighting with your inner self, there will be a time in your life when you will say, I'm done and I can't do this anymore and this is that time, when you have to fight yourself and say, I'm not done yet.
Powerful Quotes From Never Finished
"If I didn't change, and change soon, I knew I would die a loser or worse."
"Understand, the clock is always ticking and at some point, your golden hour will expire unless you take action."
"Most people don't even want to think about their darkest shit, much less talk about it. They refuse to speculate in the harsh wilderness of their past because they are afraid of exposure. Believe me, there's gold in them."
"If you don't feel like you're good enough if your life lacks meaning and time feels like it's slipping through your fingers, there is only one option. Recreate yourself in your own mental lab."
Let me first say thank you for reading this. This will be a weekly newsletter, hope you enjoy it. Now I will see you every Sunday at 9:00 AM (IST).
5 Big Takeaways from Never Finished
Don't want to get up and do exercise then go grab the camera and point it towards you, now start recording yourself and give an excuse and watch that video clip every single day.
If you don't like the way your life is going, take a stand and create a new version of yourself.
Your body is capable of doing anything, so never say that I can't do this because I'm tired, you're not tired, you're being comfortable.
When you feel like quitting, ask yourself, where I started from, and why the F I'm quitting now.
There is no stop line till you die, so do what you have to do to live a better life.
Never Finished Summary
When I come to know that, David Goggins has dropped another book and the book said, "this is not a self-help book, this is a wake-up call" and yes, it did grab my attention as well as money.
Now, to clarify, this is sort of a self-help book but it's a different kind of self-help book because David has shared his stories from his childhood to how he survived in the hall weeks.
David has also mentioned how no publisher was willing to publish his first book "Can't Hurt Me" while the one publisher was taking almost all the profits from the book sales, so he decided to self-publish his first book.
So in 2017, he put all of his earnings ($ 300,000) to publish the Can't Hurt Me.
The reason was simple, he didn't want to cut anything from the book and wanted to share what he had gone through while the Publishers wanted to do some cuts.
Apart from the story I told you, Never Finished has lots of stories along with life lessons.
In every nine chapters, David Goggins tells his life stories while and when one chapter ends, he has added a little section called "Evolution" where he tells you his life difficulties and a lesson about life.
So yes, I liked how he divided each chapter and I also loved reading "Evolution" as well.
Now, the biggest takeaway for me from the book was "Never quit something in self-doubt, take a deep breath and fight that demons which forcing you to quit because you're not ready for the future, fight back, fight harder"
Struggle of Life
As David puts it "Remember, the struggle is the whole journey".
He shared one story when he has at Leadville in 2019 for a 100-mile race…
When everyone started running, everyone was happy and running like a champ. They even run for a few miles and they show the trail poked above the tree line and they felt that we reached the top.
Some of the runners even started celebrating but that celebration didn't last for long as they show that, it was just another stop and the end point was still far away.
After that runners started running again.
Again David says "We have to learn to stop looking for signs that say; the hard time will end"
When you don't know where is your endpoint, you have to stop looking for the final endpoint and focus on the process. Things will fall into one place, once you start enjoying the things you're doing rather than expecting something in return.
Fight Back, Fight Harder
On February 6, David Goggins received an email from Greg Welch who won the Ironman World Championship in 2008. He said I'm organizing the 100-mile trail in Leadville to raise charity for the challenged athletes foundation, so I want you to participate in the charity run.
Now, David didn't reply to Greg Welch about whether he will come for a run or not because he wasn't sure whether he can run for 100 miles or not.
David was soo busy that he didn't make time to train but then one inner voice come and said "I'm still here, bi*ch. I am who you really are, and I'm not going anywhere"
That voice was from the 24-year-old David Goggins who was fat as Fu*k and didn't want to do anything in life.
This is where he told himself that "sure, I was busy, but I could make time to train"
Now, the problem was David was becoming comfortable with his life, so it was very hard to train again for the things he had done years ago but what he did is, he didn't let his demons overcome his fear.
So he started running all over again and guess what, he completed the 100 miles race and won the charity run.
So whenever you feel that, okay, I can't do this because I don't have to do this, I have everything in life, so why would I spend time here?
This voice is not from your current self, it's from old you that is telling, you why you won't do this all over again.
So fight back, fight harder with yourself, and get out of that comfort zone because it will make you comfortable now but that comfort will fade away a day.
You and Only you
I loved the approval of David Goggins to kill the excuse you're giving to yourself.
It goes like this, whenever you feel that I don't want to do exercise today because I'm tired or I will skip only one day, what will happen, it's only one day, right?
If you want to skip the day then do one thing, grab your camera or your smart phone and start recording yourself,
Now, say to yourself the reason why you don't want to do exercise, let everything out of your mind, and speak as loud as you can and watch that video clip every single time, when you say, I don't want to do exercise.
If this can't force you to do exercise after five or 10 days then you will have to really work on yourself.
See around you, there is no one stopping you from doing exercise, the one person who stopping you is, only you, no one else.
Trauma is a Real Deal
David Goggins never had a happy childhood, his father was beating his mother, and even David for no reason at all.
His father even killed his fiance because of the drugs.
Later, David comes to know that, his father was beating him because his grandfather did the same with his son.
This was the reason why David's father was beating his wife and son. That Trauma stayed with him and he never realized that I can be a different person than my father.
So yes, Trauma can takeover over a human's brain, and sometimes, a person doesn't want to change himself as he feels that I'm this person without question.
So always be aware of yourself when you're angry or you don't have control over yourself.
Now, David and his mother did leave him and when David become an adult, he visited his father and then realized that his father has become a weak person.
David wanted to hit his father, wanted to fight back, and shout at him for what he did to him and his mother but he realized that, if I do this, I will become exactly like his father.
This is that time when David promised himself that he will never be like his father. When he left his father's home, he also left all of his Trauma too.
So whenever you're sad or angry because of the past then tell yourself that, the past is left behind, it will never come back, and the only thing that matters now is the present.
Never Finished Review
Yes, definitely, the Never Finished is must read. The author has shared his life and that life will make you re-think your life, sometime, things do get hard but that doesn't mean, life is over, whatever time you have, give your 110%.
The book is also written in simple language, so it won't be hard to read but keep in mind, David has used lots of cuss words which does wake you up from the inside.
Also, the book is not that big and I feel, if you're a regular reader then you will finish this book in a single day. Although, I took 6 days to finish the book as I wanted to read this book slowly and understand the mind of David Goggins.
By the way, if you have read this book then I would love it if you can share your experience in the comment box, see you there.
Buy Never Finished
Love What You Read, You Might Like These too…