Ikigai Summary | Japanese secret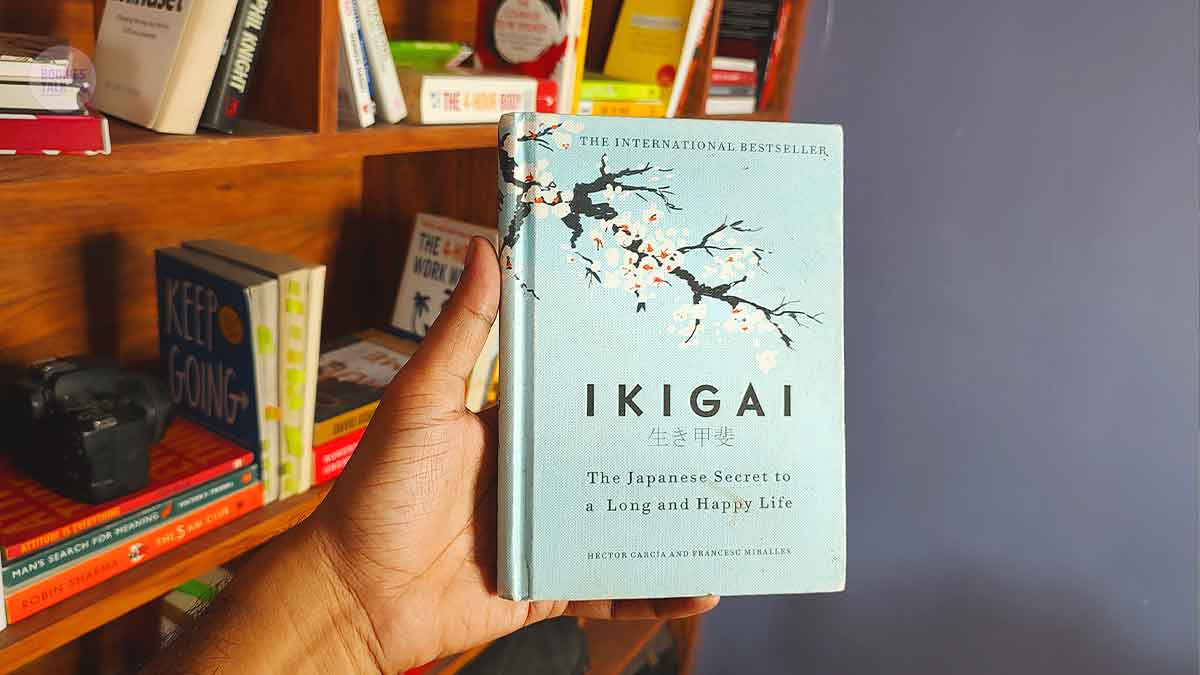 Hector Puigcerver, an author of Ikigai, discovers that people in Okinawa Island, Japan live up to 100 years. They're happier compared to other parts of the world, where he started his research and came up with Ikigai. The book gives you a clear idea of how to find purpose and live a happier life.
Favorite Quotes From the Ikigai: The Japanese Secret to a Long and happy life
"There is no future, no past. There is only the present."
"He who has a why to live for can bear with almost any how."
"Our Ikigai is different for all of us, but one thing we have in common is that we are all searching for meaning."
"We're all going to die. Some people are scared of dying. Never be afraid to die. Because you're born to die."
"When doing business in Japan, process, manners, and how you work on something is more important than the final results"
Let me first say thank you for reading this. This will be a weekly newsletter, hope you enjoy it. Now I will see you every Sunday at 9:00 AM (IST).
Ikigai Summary
The book has everything from how to focus on tasks, live a healthier life, find purpose, build habits, not waste time on unimportant tasks, and much more. It's a 1 on 1 guide on how to live a peaceful life.
One of the key takeaways for me was how to live a healthier life. People in Okinawa only eat till they are 80% full, and they don't eat anything afterward.
I was the opposite of that, I used to eat everything after dinner, whether it was ice cream, juice, or any sweet. 
It wasn't like If someone offered me ice cream after dinner and I will say no, I will grab that ice cream even If I'm full.
Now when I came to know about Okinawa, I stopped the way I was eating and started taking care of my body. 
I realized that if I don't take care of my body then my body won't take care of me when I will be in my 60s.
Now, the book does have more than just health stuff. So let's see what more Hector Puigcerver has discovered in Okinawa Island, Japan.
Finding Your Ikigai
Hector Puigcerver tells you a small method to find your Ikigai, which  goes like
What You're Good At?.
Now, Find What You Love Doing.
Further, See What World Needs?
Lastly, See Whether You Can Get Paid for What You Love Doing.
If you have answers to all of these questions then it's good news. You have found your Ikigai and if you don't have answers then start with What You're Good at?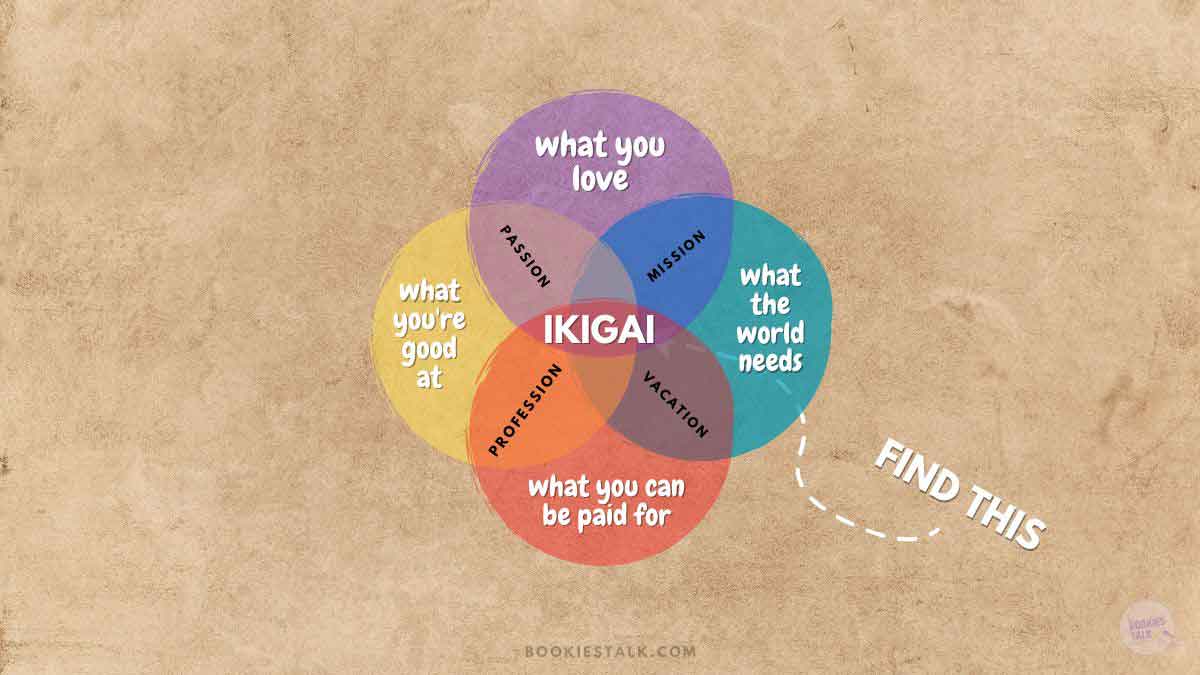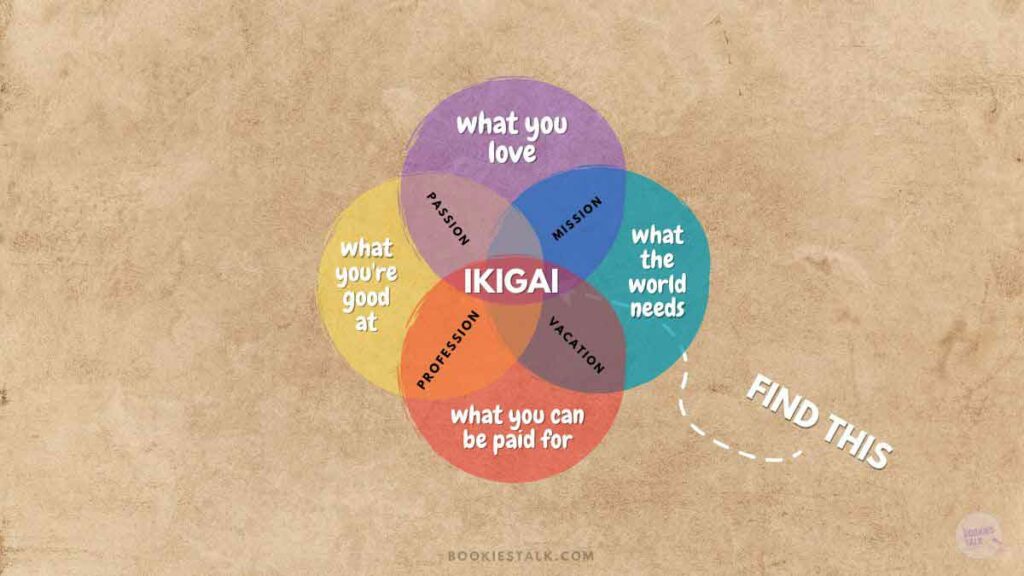 Now let's say, you love Writing and you're also good at it. You also show that the world does need a good writer.
So here, ask yourself, whether you can provide something new that other writers are not providing, and if you say Yes, I can provide something new and refreshing.
Then, lastly, see whether you can get paid for your writing or not.
Now, if you see that you can get paid for writing then guess what, Writing is your Ikigai because you love Writing, You're Good at it, World Needs Good Writers and you can also get paid.
Related: 15 Must-Read Books in Life
Now, let's take the opposite example, 
If you love Watching Movies and TV shows then this is not what the world needs and at the same, no one will pay you money for it.
So you have to differentiate what kind of skills the world needs.
By the way, Writing is my Ikigai and that's what I'm doing on BookiesTalk.
Does the World need another Book Review Website? Yes, because I have numbers. I'm also earning a good amount of money from this website.
In the same way, start with what I love doing and the rest will be history.
Make Your Body Healthier
Yes, you heard it right, people in Okinawa live on average above 80 which is an insane number but it's true.
To follow the same, you just have to eat healthy food and do some sort of physical exercise whether it's running or anything else.
Stay away from sugar, don't eat junk food, and never consume more than 2000 calories every day.
Stick to the basics, and eat vegetables, fruits, and proteins.
Also, don't eat anything after the sun rises. Go To Sleep Between 8 to 10 PM every day, wake up early, and start your day with 100 energy. Don't think much about the past, and future and just focus on the present.
Imagination can make your life worse, so stay away from it and be happy with what you have.
Always focus on the process rather than worrying about the end result.
Control Your Inner Brain
You may already know that stress and anxiety make your life miserable but still, you do take stress about the things that didn't even happen and you worry about them.
Let's say, you have given a government exam and you already know how that exam went but still, you're worrying about whether you will get a government job or not.
What will I say to my family, if I don't pass the exam and so on?
This is the start of stress which will go up and up till then the results come.
So Hector Puigcerver simply says that, don't worry about the things that didn't even happen, rather focus on what you have and what you can do to improve it.
Nothing will happen if you worry about the exam result rather focus on what needs to be done next.
As Seneca says "We suffer more in imagination than we do in reality"
5 Big Takeaways from Ikigai
You have to Take care of your body, so it can do the same when you get old.
Thinking about the past and future won't do any good, so focus on the present and what you have.
People can change and so can you, so change yourself when needed.
Stress will make your life miserable, so be aware of yourself and do the right things at the right time.
Do what you love, what the world needs and You can get paid for it.
Ikigai Review
The book has more than what I have shared with you, so make sure you read it because it will change the way you treat your body and mind. It will be a life-changing book, if you apply the things that Hector Puigcerver has discovered on Okinawa Island, Japan.
So go explore Okinawa Island, Japan with Hector Puigcerver.
Buy Ikigai Book
Why Ikigai is Must Read?
We have thousands of books on self-improvement that claim that you can heal yourself but Ikigai is one of those books which has real-life proof that you can actually heal yourself. The people living on Okinawa Island give you that motivation that, you can do whatever you want by following simple rules.
So makes sure you read Ikigai: The Japanese Secret to a Long and happy life and apply what you learned from it and live a happy life.
As someone said, life is too short to worry about small things.
Love What You Read, You Might Like These too…